Origami Deutschland organizes an international convention once a year. A variety of workshops, an origami exhibition where participants can show their latest models, an open house for local visitors on Sunday morning, paper and book shops and lots of time for folding are all part of the agenda. Each year, we are happy to invite a special guest from Germany as well as two international special guests who will host unique workshops and exhibit their latest creations. Every year 200 - 240 origami enthusiasts join us for the convention. Non-members of Origami Deutschland are also welcome to participate.

On this page you will find additional information on our next annual convention (place, date, invitation, special guests, registration forms, deadline for contributions to the annual model collection and so on) as well as reviews of past conventions.
32nd International Origami Convention in Erkner from 15 to 17 May 2020
Preparations are underway. More information will follow soon.
---
A review of the 31st International Origami Convention in Bonn from 8th to 10th June 2019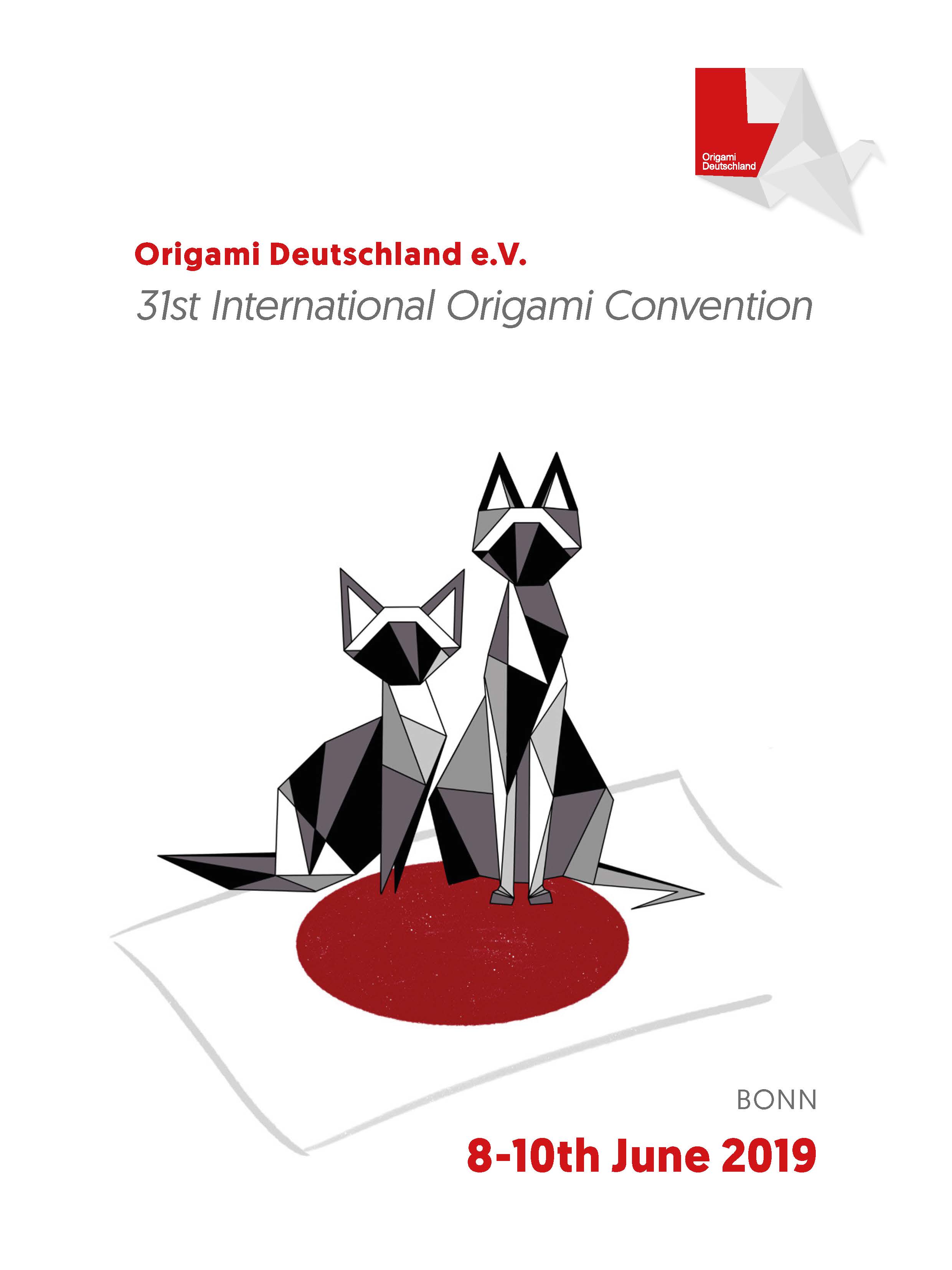 30 years ago, on the 14th of January 1989, Origami Deutschland was founded as a non-profit association by Paulo Mulatinho and 7 other origami enthusiasts. Since then the society has not only grown in size. No matter if they are folding for leisure or as an artist, the members of our society in Germany and beyond are spreading the joy of origami in countless activities and voluntary engagement.

Celebrating this, we hosted our 31st International Origami Convention from 8 to 10 June 2019 in Bonn.

4 guests of honour were welcomed: Robin Scholz and Alexander Kurth from Germany, Viviane Berty from France and Makoto Yamaguchi from Japan.

Around 230 participants from Canada, Germany, France, Great Britain, Italy, Japan, the Netherlands, Austria, Poland, Portugal and Switzerland spent a merry Whitsun holiday at the Gustav-Stresemann-Institute in Bonn, with a varied workshop programme, chitchat and long folding evenings.

As is tradition, the participants of the convention presented their creations in a great Origami exhibition. On Whit Monday, the exhibition doors were opened and visitors from near and far took the opportunity to admire the rich variety of paper folding art.

Many thanks to our guests of honour, workshop leaders and the many hardworking helpers who contributed to the success of the convention.

Goodbye until the 32nd International Origami Convention from 15 to 17 May 2020 in Erkner!
---
Guests of honour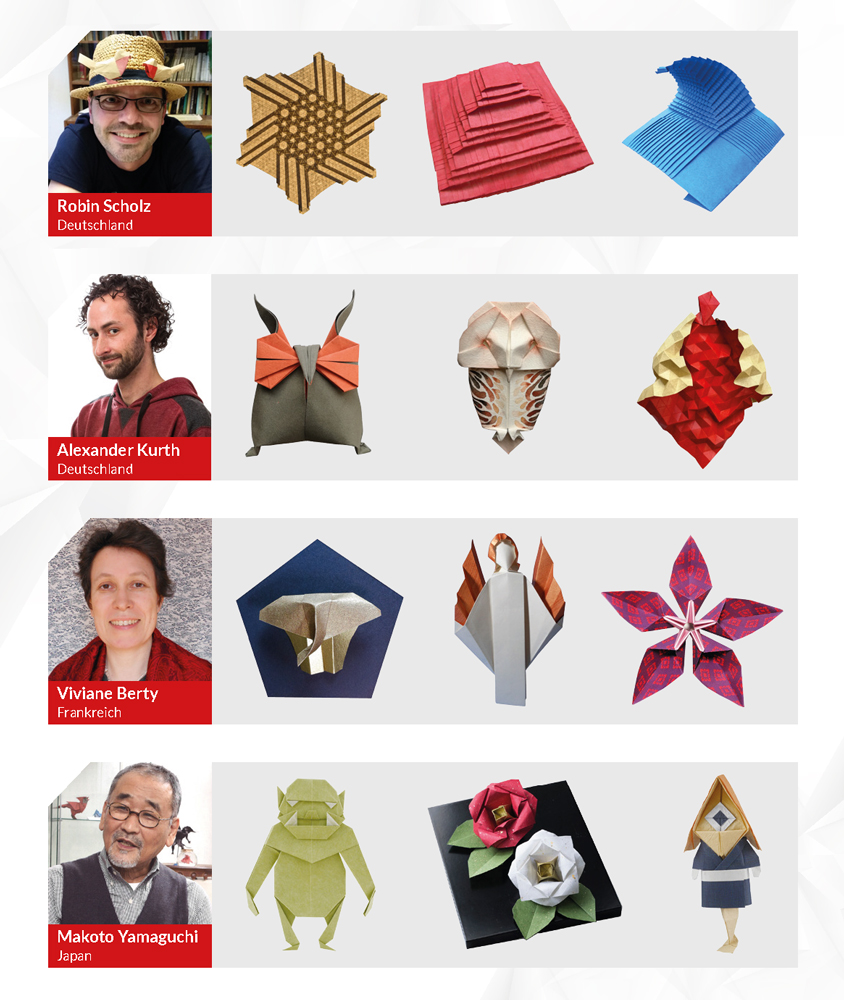 Photos: Robin Scholz, Alexander Kurth, Viviane Berty, Makoto Yamaguchi
Layout: blau DRUCK, Gera
---
Group picture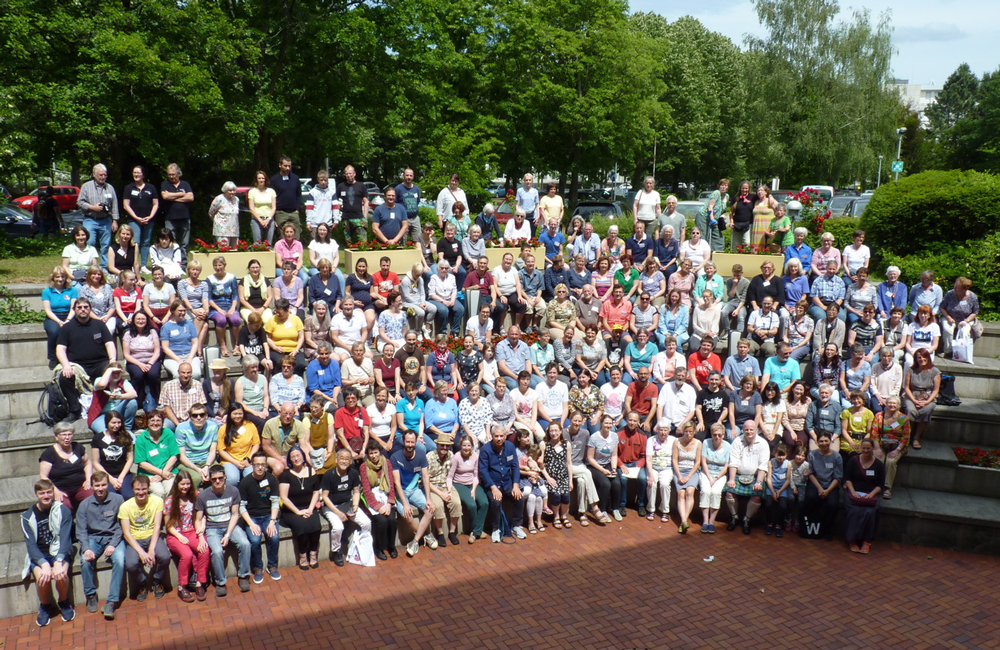 Photo: Dirk Eisner
---
Winners of the Competition Black and White
First Place: Das kleine Schwarze (Little Black Dress)
Idea: Robin Scholz
Model: Beth Johnson
Folder: Daniela Alles, Louis Alles, Christine Blasek, Petra Ertel, Claudia Maroska, Marc Müller, Mira Papel, Claudia Rinaldi, Silvia Rubin, Helga Scheef, Robin Scholz, Kerstin Weinl, Hilli Zenz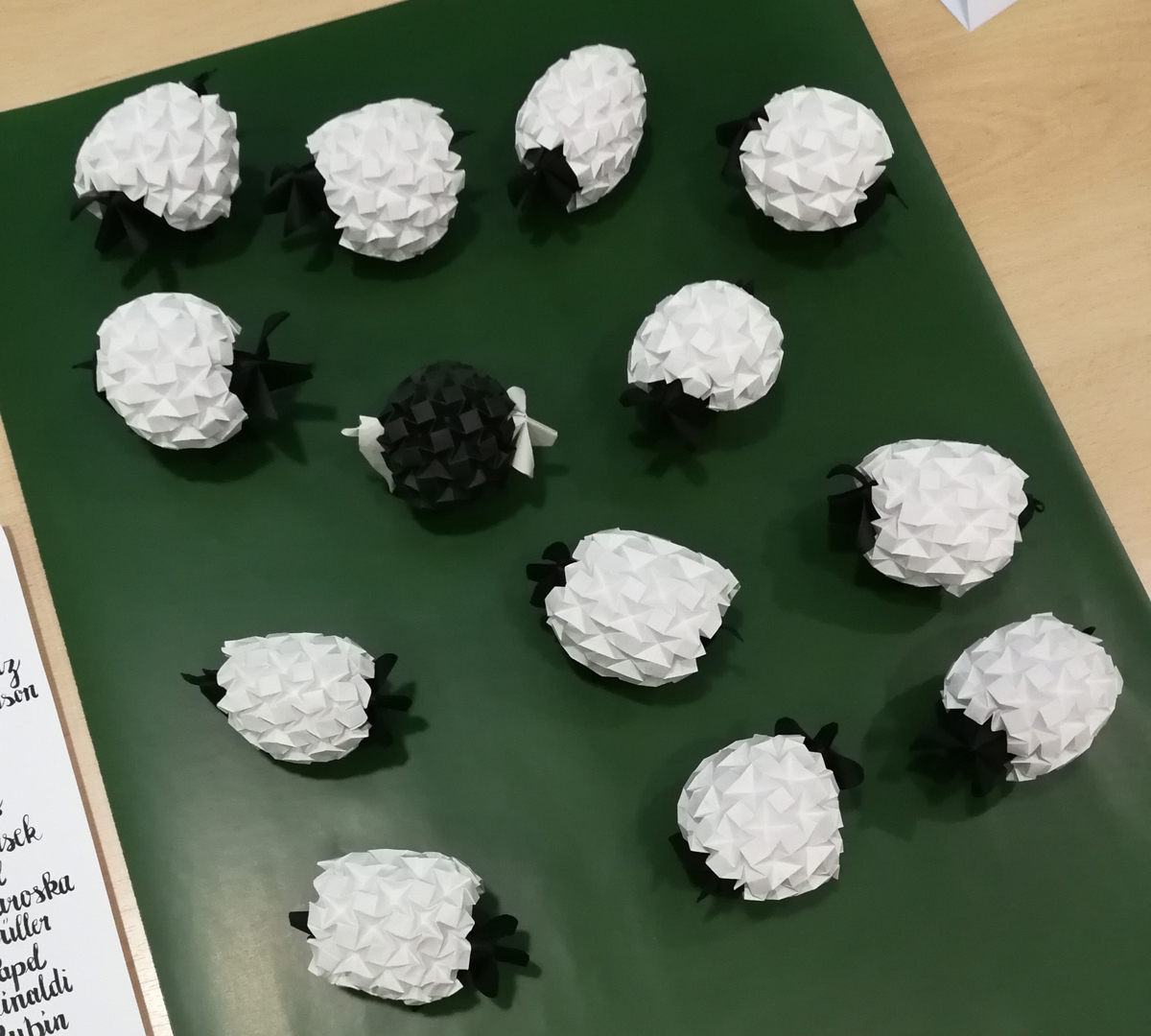 Photo: Franziska Schwarz


Second Place: Living Balance
Model and folding: Alizée Glasser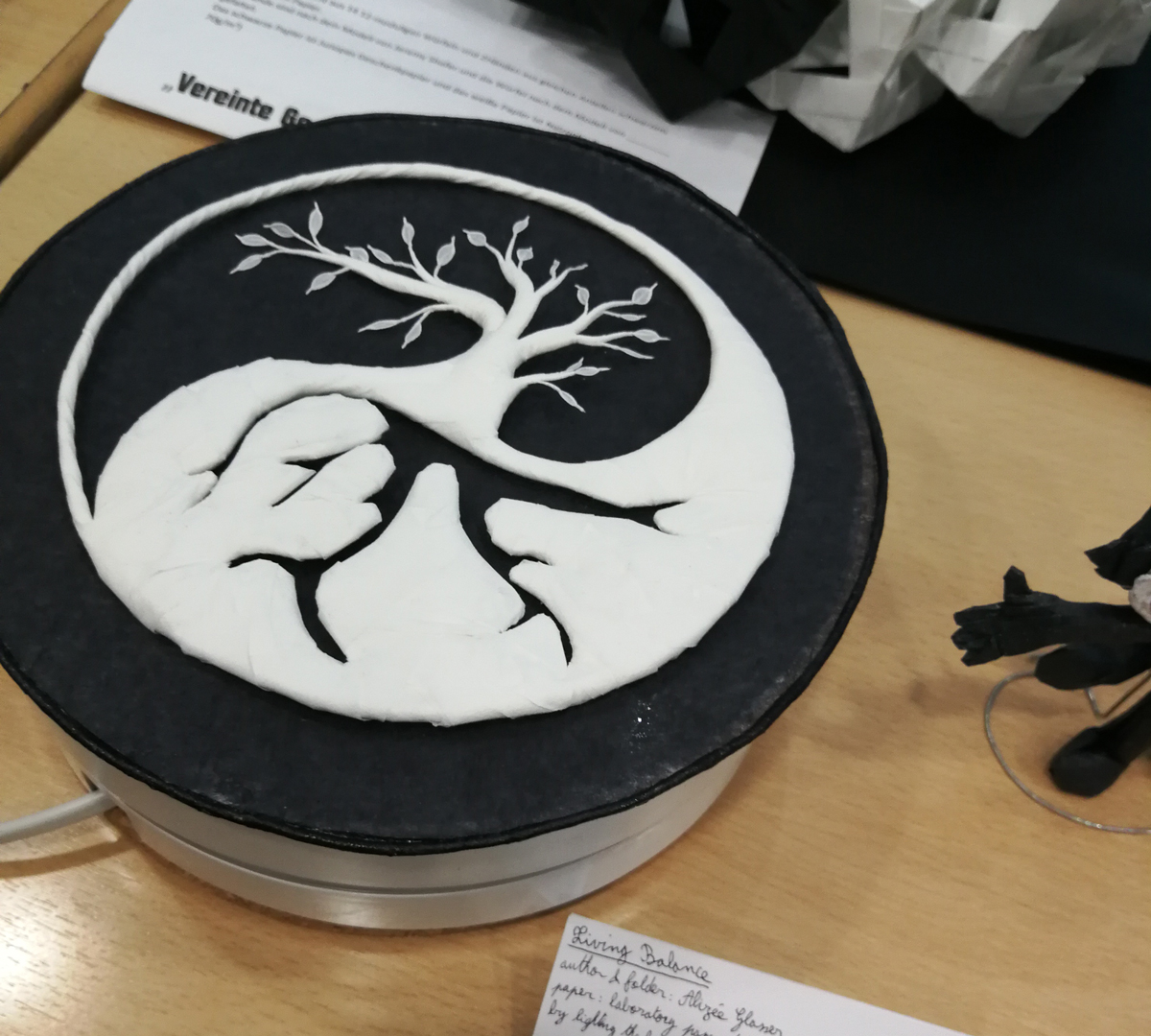 Photo: Franziska Schwarz


Third Place: Vereinte Gegensätze (Differences Put Aside)
Idea and folding: Jeanette Schramm
(Hands: folded after a model by Jeremy Shafer)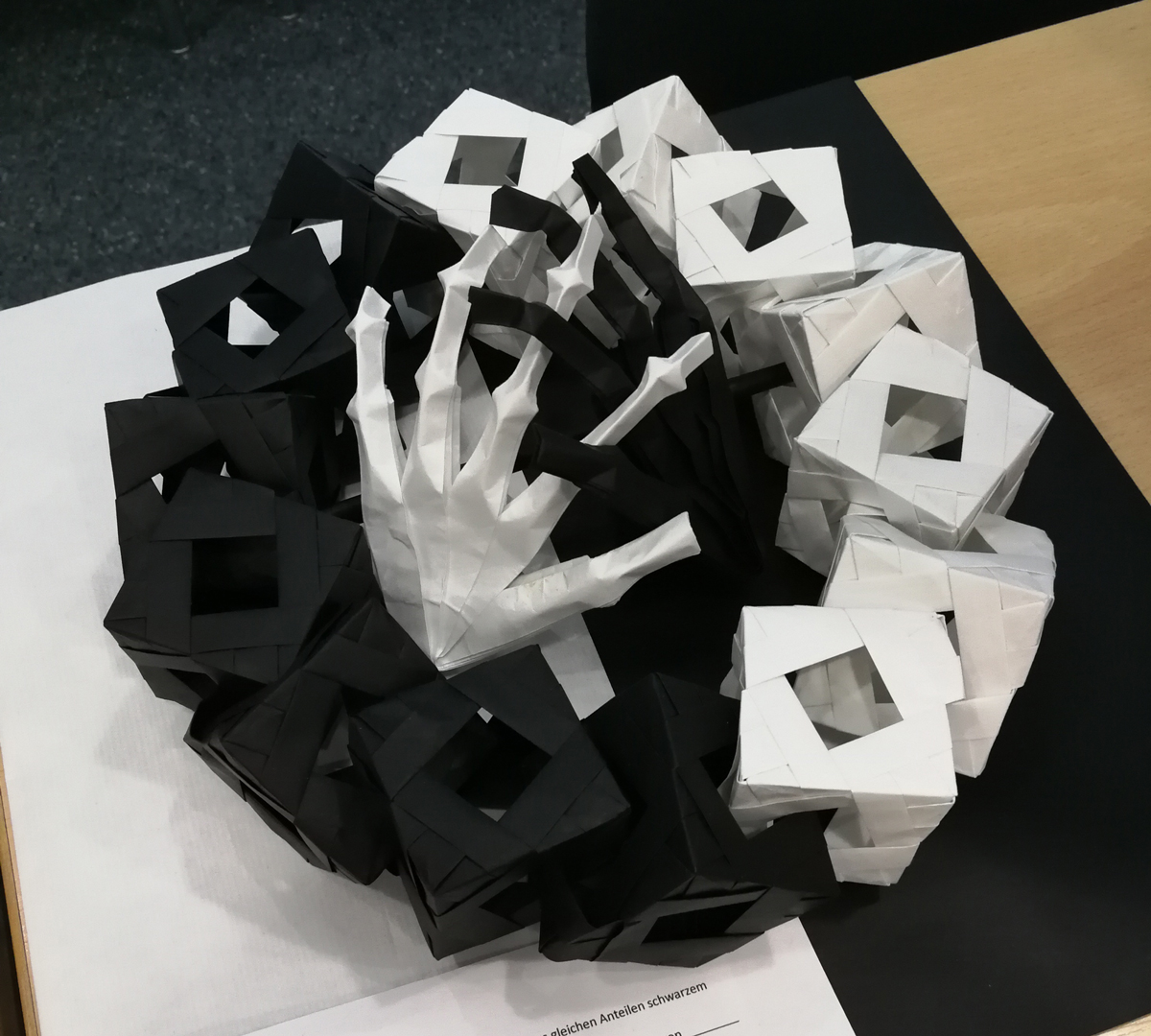 Photo: Franziska Schwarz
---
Model Collection
Copies of the model collection may be ordered via email to archiv@papierfalten.de at a price of 18 EUR each.
Shipping costs:
1 model collection within Germany: 3.00 EUR (EU/international: 7.50 EUR)
2 - 3 model collections within Germany: 5.00 EUR (EU: 9.50 EUR / international: 16.50 EUR)
4 - 8 model collections within Germany: 7.50 EUR (EU: 20.00 EUR / international: 40.00 EUR)
---
Review of past conventions
Freising 1989
Freising 1990
Bad Blankenburg 1991
Karlsruhe 1992
Freising 1993
Altenberg 1994
Freising 1995
Hohenwart 2000
Brannenburg 2001